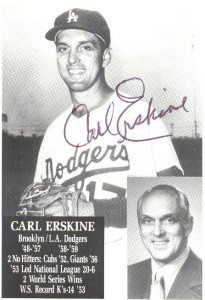 One of the greatest aspects of autograph collecting is how collectors help each other. As I re-entered the hobby, I've sought advice and inspiration from the hobby's stalwarts.
I've long followed the progress of Andrew Martin on hobby websites. He'd post often when he had a success. I wanted to know more about his career as a collector. It seems I found a kindred spirit.
Andrew wrote:
"I have been doing TTM since 1990 and have shifted my primary goal from receiving and autograph to getting back a cool note, letter, or phone call.

I have two returns that stick out for me. The first was a letter I got from Carl McNabb back in 2006. Carl played in one game in 1945 with the Tigers, with one at bat, and that was the entirety of his major league career. I had asked him a few questions about his career and he responded with a two page letter just going off on how if his Tigers' manager, Steve O'Neill hadn't had so many favorites, he would have had more of an opportunity. He told me that even at his age (then about 90), if he was given another opportunity to play, he would do it again.

It had been 60 years since his debut and he still thought about the what-ifs on a daily basis. I was blown away to find out how much of an impact something like that could have on a person.

Another favorite is actually something that happened just last week. I had the privilege of having a 30-40 minute conversation with Carl Erskine on the phone and heard many wonderful stories about his playing career; in particular the first time he met Jackie Robinson.

My "thing" has become researching and corresponding with lesser known players. Though they may not have put up All-Star numbers, they often have the best stories and have a greater appreciation for what they were able to experience."
I tip my collector cap to the hobby vets like Andrew.
Andrew is sharing with more than collectors. He's begun collecting what he learns to create biographies of the former players he encounters. See what he discovered about 1970s White Sox hurler Steve Kealey.