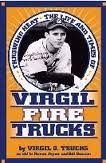 Don't close the
book on Virgil yet!

"We interrupt this broadcast to report…"
I've never had "news as it happens." Until now, perhaps!
Bless you many fine readers who've sent get-well cards to the senior Detroit Tiger alum, Virgil "Fire" Trucks.
This tireless signer has been rehabbing on his own disabled list, from a broken leg, hoping to be well enough to field fan mail again.
Here's a report from his daughter, Carolyn Beckwith:
"Please thank all of his fans for the cards and concern. He has read them and appreciates them so much, as do I. It is a big part of his recovery. He still of course cannot handle the fan mail for now. Maybe later and I will keep you updated on that progress.
Thank you so much for all you do.. Its appreciated so very much."
Carolyn has noted that her Dad remains as savvy and witty as ever. The injury didn't extend to his spirit.
Ah, but that's not all the news.
I've received an e-mail from Eli Bayless, director of promotions for the Tigers. During Saturday's game, the team will make a ballpark announcement and present photos on the scoreboard to honor the 60th anniversary of Virgil's no-hitter against the Yankees (his second thrown in 1952).
I had e-mailed the team. I did not assume the front office had thought of everything. I sent a polite, specific note saying that Tigers fans would never get tired of celebrating a win against the Yankees!
Did my note make the difference? All I know is that someone listened to someone like me.
One letter can make a difference. Make a difference to Virgil Trucks, if you haven't sent a card yet.
Send your get-well wishes to him in care of his daughter:
Carolyn Beckwith
55 Salser Lane
Columbiana, AL 35051

Coming Monday: An "Autograph Addict" redfines the definition of a "baseball autograph."