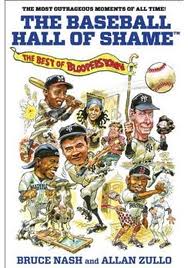 One cool fact: 86-year-old
sports artist Jack Davis,
illustrator of previous editions,
came out of retirement
to adorn this cover, too!
Major League Baseball can laugh at itself!
Authors Bruce Nash and Allan Zullo are back again. (Take that, Simon and Garfunkel!) The pair have revived their "Baseball Hall of Fame" series with a fifth title called The Best of Blooperstown.
This offbeat book combines a "best of" format, while adding 40 percent new stories.
In tales as recent as 2011, the five newest inductees include Orlando Hudson, Denard Span, John Lindsey, Lastings Milledge and Chris Coughlan.
My favorite tales? Nash and Zullo uncover a pair of gems for autograph collectors. Once, Will McEnany substituted his uniformed twin brother in the Pirates bullpen. Not only did he fool skipper Chuck Tanner, the reliever's kin signed autographs for fans. Talk about a rare variation to collect?
Also, readers discover why outfielder Al Smith once signed autographs only for fans who claimed to have the same last name.
This book is fun reading for a full nine innings. Each story may run one or two pages. Read it during the commercial breaks for your next televised baseball game viewing.
Best of all, the infamous wrong-doers in this book share a laugh with the authors. There's no denials or finger-pointing over what went wrong on the field. I could imagine the highlighted subjects signing autographs for a collector who wrote them about their diamond misdeeds. The players seem to appreciate the recognition. After all, they won't be forgotten, as long as Nash and Zullo are the keepers of the game's hilarious history. I'm glad they're back and on my bookshelf again.