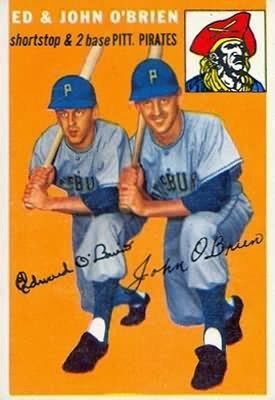 One half of one of the most amazing Topps cards of the 1950s is gone.
Eddie O'Brien
amazed me in 2010 with a letter that told about that famed card with his brother, his brief stint as a Pirates pitcher and getting scouted by Bing Crosby.
The always-amazing www.sportscollectors.net tallied 152 responses in 166 tries for Eddie O.
Eddie was famous, too, for taking the 1954 card (or the Archives) to his brother John for a second autograph. I don't think most TTM collectors requested the effort. It was usually a surprise. Two autographs, one stamp, giving "double play" new meaning.
Great friends to the hobby remain. Write them while you can.