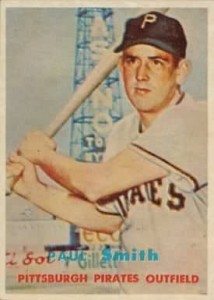 Should have asked…
Does Smith know he and his
card are comic fodder in
'The Great American Baseball
Card Flipping, Trading and Bubble
Gum Book'?
Call me a mind reader.
Just as a formality, I asked Paul Smith which of his seven homers was a favorite. I knew, however. Sure enough, Smith agreed, saying:
"Favorite home run – against Brooklyn , ninth inning, pinch-hit HR to tie the game with two outs and two strikes."
Cheers to http://www.retrosheet.org/ for the details!
Smith played ball in Havana, before there was any Fidel Castro. What was it like?
"I had played winter ball in Cuba 1952-53 and had a great season. The fans were great when I played for the AAA team."
I read that Smith had suffered concussions as a player. A hitch in the armed forces may have complicated his career, too.
Smith didn't make excuses, noting:
"Concussions – hard hat (helmet) made it minor! Headaches for a couple of days.

Military – a year in Iceland."
Before thanking me for the questions, Smith summed up:
"Life in baseball is great. See a lot of the country. It's a challenge when you're only 5-foot-8."
Thursday: A Cubs teammate remembers Ken Hubbs