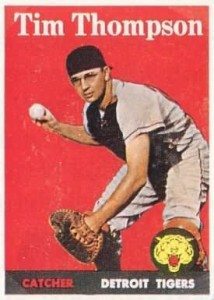 A Topps puzzler…
You know that guy, uh, what's his name?
Don't expect any help from a certain 1950s catcher by the full name of Charles Lemoine Thompson. The always-impressive Baseball Almanac website shows his autographed 1954 Topps card, signed "Charlie," as indicated on the card. They file the catcher under "Tim Thompson," his nickname.
On his 1957 card, Topps spells his first name "Charley."
Thompson's last card, in the 1958 Topps set, says he's "Tim Thompson."
I blame Topps for scattering the catcher throughout history. I asked if the card company mixed up his name.
"No."
That's all Mr. Thompson had to say.
Imagine all the 1950s kids lining up their differently-named cards. Compounding the confusion, starting in 1957, Topps shows the catcher wearing glasses. Shades of Clint Courtney! I asked if this was difficult or dangerous back then.
"Far-sighted."
Hmmm…
The website Baseball Reference notes Thompson's success as a scout for decades after his career ended. I asked if he had a couple of signings or discoveries he was proudest of.
"Brian Jordan, Tom Herr."
Oh. About his proper, or even preferred first name?
I'll never know. Mr. Thompson never bothered to sign the letter!
Coming Thursday: Two succinct signers.