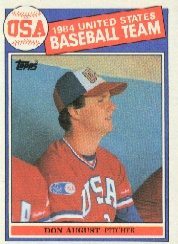 The face of a
future history teacher!
They may not have called him MISTER August when batting against him, but everyone addresses him with such respect now.
Former pitcher Don August has been teaching middle school history for six years in Wisconsin. I wrote to him in care of his school.
Before debuting with the 1988 Milwaukee Brewers, August helped the United States baseball team win silver. He shared TWO Olympic memories:
"Top Olympic memory, hard to say. The incredible travel schedule Team USA went on during our pre-Olympic tour. We played in about 12 Major League stadiums. Some of those parks don't exist any more.

– OR –

I came in relief in the semi-final game in a 2-2 game. Two outs, runner on third with a 2 ball, 0 strike count. I finished the game with 0 runs and got the win to put us into the gold medal game."
With Milwaukee, August had another notable victory. Flash back to June 17, 1991. August twirled a five-hit shutout. (Thanks to http://www.retrosheet.org/ for the sweet details!)
"I don't remember any tense moments, maybe because in that game I rolled up five double play balls, which meant before they could do anything the double play probably stopped it. The Oakland A's definitely had a tremendous lineup.

I had a good day."
These days, August is living history for his classes. He explained:
"The kids I teach weren't born when I pitched for the Brewers. They really don't know the players of that era. They don't know who George Brett was.

One kid may say, 'Oh, is he that guy who went bananas with the pine tar bat incident?',
and that's it about George Brett.

They all think that I am a millionaire. They know what the salaries are today, so they think that's the money we made. They just think it's cool that I played on TV, played in cool stadiums, etc."
Coming Wednesday: Seven fascinating words from catcher "Tim" Thompson