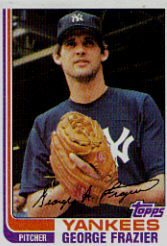 George Frazier pitched for five teams from 1979-87. He's known today as a Rockies commentator.
I think he may gain the most fame by striking out autograph dealers.
From the always-amazing www.sportscollectors.net comes word from one of Frazier's friends. The former reliever is getting hounded in the worst way by mail, getting 20 to 30 cards monthly. The names change, but the address is the same. Yes, the addresses are matching eBay sellers with Frazier autographs. A reply of all cards personalized brought another letter Frazier asking for more autographs, leaving off the inscriptions. (After all, personalized autographs are harder to sell, right?)
Frazier is asking true collectors to limit their TTM request to 4 or 5 items. Frazier's friend says the ex-pitcher is mulling over new responses. Requests of 10 or more items will get one autograph and he'll start keeping duplicates.
Another former major leaguer is ready to stop signing by mail for everyone. Worse still, Frazier has access to the airwaves. His choice could be reflected by an entire Rockies organization. Or by former-player-broadcasters from other teams repeating the tale of hobby greed during broadcasts.
The baseball world is watching. Be on your best by-mail behavior.