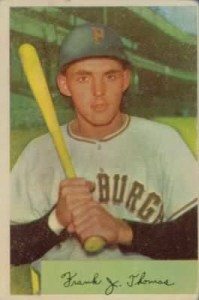 Pittsburgh-born Frank Thomas, an underrated slugger from 1951-66, is quick to say that he's been out of the game 46 years.
Don't tell his mailbox.
He still gets 4-5 letters a day from autograph seekers. He asks for a $5 donation per autograph, giving all proceeds to four charities. Through his own humorously-named personal website, Thomas outlines his signing policy and his goodwill endeavors.
"My Dad told me to remember to be nice to people on the way up, because you'll need them on the way back down."
While attending a baseball-sponsored charity golf tournament in North Carolina, Thomas was forever changed. This led to his sponsorship of Courageous Kidz and Camp Happy Days.
"We were asked if any of us would go visit kids in the hospital battling cancer. Rick Dempsey and I said we'd be happy to.
We met a 17-year-old boy. He had just gotten back from Disney World. We asked him what he liked there. He said 'GIRLS!' He's facing death, but he still can't stop thinking about girls! He asked us to go see a little girl a few doors down. She was cutting out paper dolls. I asked if she'd like showing her Mommy all she had done.
The girl said, 'My Mommy can't come. She has to stay home with the other kids.' That's when my eyes filled with tears. I vowed I'd do all I could for kids like this."
The father of four boys and four girls, Thomas is the father of a Father. One son has been a Priest for 14 years.
Thomas is a man of service. He remains active in the Catholic service organization Knights of Columbus, sharing some of the autograph donation proceeds with them. His fourth cause is Meals on Wheels.
Yes, Pittsburgh-area seniors get a meal each day delivered by a former All-Star. Thomas is a driver who's been involved with Meals on Wheels for 30 years.
"Sometimes, the Meals on Wheels driver is the only person a senior sees all day," Thomas noted.
Just as Thomas invests in these charities, he puts the same dedication into each collector donor.
"I know how much an autograph means to someone," Thomas said.
The former Pirate has been including an extra autographed card whenever someone makes a donation. Additionally, he reads each letter himself, answering with additional notes when possible.
When someone mistakenly sends cards of the Frank "Big Hurt" Thomas (1990-2008), Thomas sends the cards back unsigned with a note suggesting they contact the contemporary F.T. in care of the White Sox or Athletics. "He has a foundation," Thomas said. "I've suggested that people send a donation to him, too."
Yes, the two same-named sluggers have met.
"I was at the 1994 All-Star game and got my picture taken with him," Thomas said. "He signed for me, but you can't read his signature."
The mention of the second Frank Thomas stirred another memory, this tale spotlighting Hall of Famer Orlando Cepeda. "I gave him his first glove," Thomas recalled. "When I saw his signature, I asked him if he was proud of his family name. He said, 'Sure.' Then I said, 'Well, sign it so I can read it then!' He reminds me of that every time I see him."
Thomas feels a special kinship with collectors. When a house fire destroyed his extensive baseball card collection, a story in Sports Collectors Digest inspired hobbyists to help Thomas rebuild his sets.
"I have replaced everything, down to 10 high-numbers from the 1952 Topps set," he said. Thomas said he expected to finish his 2011 Topps Heritage set this week.
After years of lobbying the company, Thomas got included in this year's set. "But only in the hobby edition!"
Despite loving the sets, and the idea of connecting the past with the present, Thomas still has worries for Topps.
"With the price of cards today," he said, "I worry that kids are getting priced out of the hobby."
Cards. Autographs. Steroids. Thomas isn't shy about sharing his opinions. Only once, Thomas said, has a letter-writer criticized his signing methods. "The letter said I was just like current players," Thomas fumed. A fiery reply explaining the charities noted that "if $5 will break you" that Thomas would make the donation for him.
"I wish I had done this a long time ago," Thomas said. "I wish I had done this while I was playing. I could have helped so many people."
Thomas welcomes autograph requests with donations of $5 per signature. Be prepared: he reads every line of every letter. His address:
Frank Thomas
118 Doray Drive
Pittsburgh, PA 15237
Coming Monday: A follow-up on the TTM autograph that took "only" 15 years.