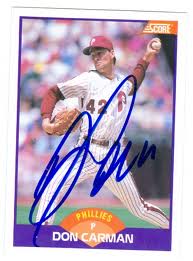 Not a pretty signature,
but a generous signer —
when he rememebers his mail!
Pitcher Don Carman enjoys a special kind of fame.
In 2006, Slate documented how Carman employed the "better late than never" approach. He found misplaced fan mail and answered autograph requests that were about 15 years old. The article seemed quite touching, an instance of a retired player wanting to do the right thing. He talked about buying extra postage for more than 200 tardy replies.
Even though the feature is a few years old, there's a contemporary moral for the hobby. I see by monitoring http://www.sportscollectors.net/ that a few other retired players are taking YEARS to answer. Therefore, there's plenty of reasons why your self-addressed, stamped envelope should have a FOREVER stamp.
Regarding Carman:
1. How many times can he "write" his D—- C—- version of an autograph in one minute?
2. Slate said Carman worked with agent Scott Boras. Did the agent encourage Carman to abbreviate his signature? I've seen on ebay an index card autograph, supposedly from Carman, with every letter in his name quite legible. That signature would take forever!
3. On the SCN website, I see that Carman's recent by-mail replies have run anywhere from seven to 282 days. In the last two years, he's been getting to everyone in MONTHS, not years.
I'm going to write Carman this month. Stay tuned…
Tomorrow: Saying farewell to Duane Pillette, one of baseball's best signers.