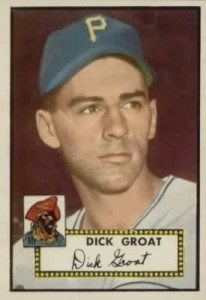 Sixty years later, expect the
same autograph — maybe
even more ornate than in 1952!
I've" been asking some of the greatest autograph signers in hobby history why they do it.
I thank them. Then, I ask why they've been so kind for so long.
Pittsburgh Pirates fans will be the first to understand the short, sincere reply of Dick Groat:
"Love of the 'game'
Greatest Life in the World
Dick Groat
1960 N.L. MVP
You may not get a one-page letter back from the steady shortstop. You will get fast, crisp signatures, along with the acknowledgement that you're part of the same team. HIS team. The team that believes in baseball.
Coming Wednesday: How Antiques Roadshow hurts our hobby.