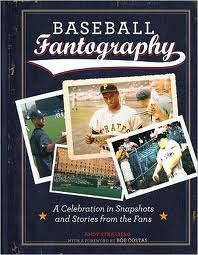 We are not alone!
Did you whip out your pocket camera (or cel phone) to try to capture a single image from your last trip to the ball game? It's been happening for years.
Baseball Fantography: A Celebration in Snapshots and Stories from the Fans (Abrams Image, $19.95) proves it. Author Andy Strasberg began www.Fantography.com, sharing informal pictures from his days as a baseball fan, then executive.
He's shared what others have shared with him in book form. Pictures of long-gone ballparks. Snaps of superstars being human — signing autographs, relaxing at spring training — not posing from the professional photographers.
The fans have provided a sentence or three in context, captioning their fascinating flashes of baseball history. Of course, notable photo contributors can be found, such as Hall of Famer Ozzie Smith.
I was dazzled by the comments from baseball photographer Doug McWilliams. You'll love the look of Strasberg photographing McWilliams photographing players for Topps in the 1970s. McWilliams traces his beginnings back to attending PCL games to make his own "photo cards." He'd return with photographs of players, getting autographs on his creations. Sound familiar?
My only quibble about the book is its size. The book measures approximately 7-by-9. I wanted the typeface larger and the photos bigger. I'd love a coffee-table edition of this. Scrapbook sized!
Most of all, I want more photos. I'm sure I'm not alone. A second volume has to come soon. Andy Strasberg has a winning idea. Make some space on your bookshelves.
Coming Monday: a few words from Pirates legend Dick Groat.