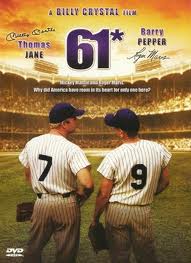 Andy served as a
technical advisor
for the movie.
From fan to friend.
That's the
amazing tale
of Andy Strasberg and Roger Maris. Yes, this is evidence of what a sincere fan letter can accomplish.
The one question I wanted to ask Andy was about Roger Maris, autograph signer. He replied…
"Tom,
We never discussed his fan mail or his philosophy regarding autograph requests.

In the early 1980s, while I was working for the Padres my boss, Elten Schiller asked me if I could get Roger to autograph a few first day covers for his collection. I asked Rog and he said absolutely which made me look like a hero to Elten.

Here's a few other Maris autograph stories:

Soon after Roger passed away, I received in the mail a baseball that an artist had painted Roger's image on and it had Roger's autograph. The ball was sent as a friendly gesture from long time collector Barry Halper who knew of my admiration for Maris.
And a couple of years after Roger passed away, I received a surprise package from Roger's wife, Pat who had enclosed a few autographed items for my collection and thought that I would enjoy them.

And finally, while I was working as a consultant on the HBO movie 61*, Barry Pepper, who played Maris in the movie, remarked that he was trying to get an autograph photo of Roger and one day while we were taking a break in between shots on the set of the Yankee Clubhouse I surprised him and gave him an autograph photo of Maris hitting #61. Barry was speechless and tears welled up in his eyes as he thanked and hugged me.

Andy"
I can't say enough about Andy's new book
Baseball Fantography
. Get two: one to savor, and one to share. It's a perfect present for a fellow fan.
Coming Wednesday: Kiss blank index cards goodbye!