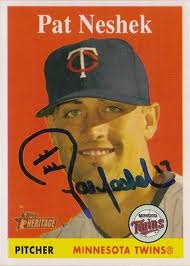 Collector Neshek likes
this hard-to-get card best!
I awoke to find that the Baltimore Orioles had the best record in the American League this morning.
Is that good news for pitcher Pat Neshek? The hurler awaits at AAA Norfolk. No O's fan wants to mess with success. However, I know is that Neshek's stellar spring training stats prove he deserves to be back in the bigs…somewhere.
No matter where he's at, Neshek remains the hobby's best friend in baseball. He's more than a signing machine. He takes pride in being a collector, too. He answered some questions when I wrote him c/o the Tide.
Q: Besides the SASE, what tips do you have for collectors by mail?
A: Keep it short and simple. Include a SASE and research which players sign TTM.
Q: Your website rocks. I've enjoyed your great card set reviews. What's been your favorite Pat Neshek cards so far — and why?
A: 2007 Topps Heritage. It's a tough SP to find.
Q: Bless you for your penmanship. What's kept you from a "P— N—," the standard abbreviated scribble so many players succumb to?
A: I enjoy signing and like a nice signature people can read.
Coming Thursday: A review of 'The Baseball Hall of Shame: The Best of Blooperstown.'