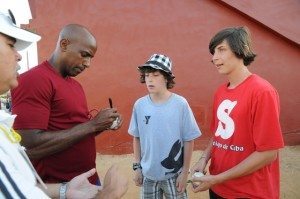 (Photo copyright and courtesy of Patchworks Films)
I'm pleased to say that last week's appeal to help fund Got Balz? made a difference. Patchworks Films met their $40,000 fundraising goal, thanks to you.
Part of my fascination in the upcoming documentary is in Cuban baseball. The team's roster is filled with major league-quality talent. Ironically, few people in America might know who these gifted players are.
I asked filmmaker Marcia Jarmel about one picture on their website, as well as what autographing she saw in Cuba.
"Our boys are Jaden Jarmel-Schneider (the 11 year old) and Mica Jarmel-Schneider (the 15 year old). The player [signing] is Yonder Martinez, one of Cuba's best pitchers.
"From what I observed as we filmed in the dugout before the playoff game, the players seemed to see our boys as fans, not American fans. They were happy to sign and accept "buen suerte" (good luck!)."
Also, I wanted to know if we'd see any known baseball faces in the documentary.
"The film itself features Cuban greats, but not any U.S. players, but we are hoping we might still get some U.S. players involved with the project. We shall see if any of the irons we have in the fire pan out.
With the funding we've garnered so far, Ken [husband and partner Ken Schneider] and I will be able to finish editing the film this summer. There is still a need for support to cover the final lab work and to pay for music rights for the fabulous sound track we're planning. So absolutely, people can still get involved. For anyone interested, the can go directly to our website and donate there: www.gotbalzfilm.info."
Coming Wednesday: Pitcher Pat Neshek talks autographs and cards!