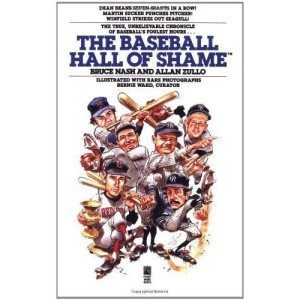 The first volume in the series, now
out of print, is being hawked at $137 by
a dealer on Amazon.Com.
It would have been a shame to let the "Baseball Hall of Shame" authors sneak off without answering any questions. My thanks to author Allan Zullo, who provided the following e-interview…
Q: The "Baseball Hall of Shame" series debuted in 1985, gracing four volumes. Now, "The Best of Blooperstown" is a fifth! What's new here?
A: We have taken the best of the previous four books and added about 40 percent new material.
Unfortunately, we don't have any examples of players sending us letters. We interviewed many of them by phone or in person; the older stories were based on old newspaper accounts, chronicles and memoirs that we found at the library of the Baseball Hall of Fame.
Q: Speaking of baseball "shame," what's your current assessment of autograph signing?
A: You're the expert on autographs, Tom. You already know what we've discovered: Too many of today's players hate signing autographs because they don't have the time or feel that fans are profiting off of them. If you're not a grade schooler or a beautiful woman, chances are not very good that you will get an autograph in person at the ballpark. You might have some luck by the players' entrance hours before the game or in the front row during BP. The best place is the signing booth where two or three players at a time are required by the club to sign autographs. Obviously, your chances increase if you send a SASE to the player with a polite letter. The better the player, the less likely you are to get an autograph. To increase your chances, ask for autographs from players before they become superstars.
Q: If someone wants to get an autograph from two fun authors like yourselves, any tips?
A: Why anyone would want an autograph from us is beyond our understanding. If so, they can write to Bruce at Nash Entertainment, Sunset Gower Studios, 1438 N. Gower St. Box 10, Hollywood, CA 90028; for Allan, it's c/o The Wordsellers, Inc., 9 Poplar Forest, Fairview, NC 28730. [Be sure to enclose a SASE, return postage…some appropriate way to get your book returned. Thanks!]
Q: Last question: you two want to create a "Blooperstown" exhibit, pursuing some of the memorabilia you're writing about. How's the hunt?
A: We're not having much luck because the really good things we want are from an earlier era and are nowhere to be found. Families of deceased players got rid of their things. However, we're still trying. We're hoping to get the army helmet that Steve Dahl wore at Disco Demolition Night. We believe the hat Jose Canseco wore when a flyball bounced off his head for a homer is too expensive for us.
**************
Allan, as one of those unlucky collectors who isn't a grade schooler or a beautiful woman, I hope you'll pen an "Adventures in Autographing" someday. The stories we could tell!
Coming Monday: Honoring "Baseball Passings," one of Facebook's greatest sites!