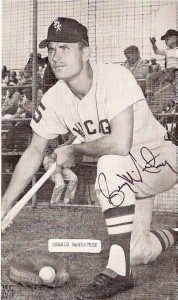 Catcher Jerry McNertney found that his most productive season in a nine-year career came with the 1969 Seattle Pilots. Looking back, those career highs at bat weren't the only things he missed about the Pacific Northwest. McNertney wrote:
"Wonderful time in Seattle! Great fans, loved the game! Great outdoors country! Wish we could have returned!"
McNertney relocated to Milwaukee, serving as opening-day catcher for the Brewers. He returned there in 2010 to relive those uncertain first days with the Brew Crew in a special ceremony.
Ribbed by author Jim Bouton in Ball Four

for his clean-cut Midwestern attitude, McNertney claimed years later that he never read the book. Bouton didn't seem to recall McNertney's one-day vacation from good behavior. McNertney wrote:
"That ejection in Detroit: I can't remember the ump. But I remember the hitter and pitcher, Norm Cash and John Gelnar. We had him K'd, but the ump disagreed!"
The ever-fascinating www.retrosheet.org uncovered McNertney's clash with authority. Cash was awarded a walk. Subsequently, umpire Larry Napp provided McNertney a long walk back to the dugout, ejecting the normally-stoic backstop.
One of McNertney's greatest accomplishments in baseball came in never forgetting his Iowa roots. His hometown honored him in 2009 with Jerry McNertney Day.