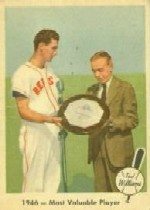 Some collectors
deserve a plaque, too.
The MVC Award?
Here's reason number gazillion why I'm happy to be a member of www.sportscollectors.net.
On the message board, I discovered something amazing:
A gift.
Once, I thought I'd spend WEEKS searching out every team website, trying to seek who this year's minor league managers, coaches and roving instructors were. Or, I could drop $30-ish dollars for the directory from Baseball America. Ouch. That's a lot of postage stamps..
(Hmmm…Amazon has the $29.95 book for $19.37. However, it
doesn't come out until March 6. Little late for trying to get coaches in
spring training!)
Well, screen name "Willyben" indicates he's made a database directory of all these team on-field employees. Just the guys you'd want in your collection. One TTM hobby fact is that tough autographs who don't like mail to their homes will consider signing when you write to their "office" — that is, in care of their minor league team.
I wrote. I'm hoping to get more of the story behind this database. The reply from Brent Williams amazed me further. He wants to share with everyone..not just other SCN members.
Here's his work-in-progress, the 2012 Minor League Database:
Prince. Albert. Brent. The first basemen better look out when it comes to this season's MVP voting. My gratitude hints that I may choose the third guy.
Morals of this story? You are not alone. There are others in the hobby who'll cheer you on and help you with your goals, if you'll do the same. Don't wait for perfection. Ask for help and see the pieces other collectors can add to the puzzle. Together, we are stronger.
Coming Monday: Brian "The Autograph Card" Flam discusses one of the epic questions facing in-person collectors…Sharpie or Staedtler?