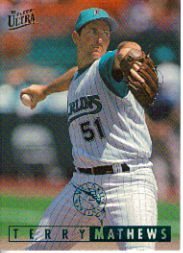 Mathews autographed for
pay, signing inserts
in the 1996 Leaf set.
Did the experience
sour him on the hobby?
My sadness is tinged with smiles in reading about the life of 47-year-old Terry Mathews.
Yes, he died of a heart attack. However, he knew how to win, on and off the mound.
I was gladdened by this fine tribute article.
Looking up Mathews on the www.sportscollectors.net success board, I saw that only seven TTM attempts were recorded. He answered twice, one in 2004, the last in 2009.
He's remembered as a selfless, caring person. That attitude somehow didn't translate to fan mail. I'm guessing that the former pitcher (and countless other retirees) assumed new identities. They have trouble relating that player on the card to the person they are today.
Link the two, and you'll have a greater chance of getting your response.