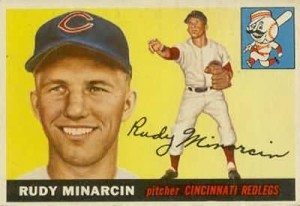 Even at age 80, I'm sure Rudy Minarcin can produce the same smile seen on his two classic baseball cards.
How?
Just ask him about the 1955 Brooklyn Dodgers.
Based on June 15's outcome, few would have thought the Dodgers would be that year's World Series winners. Not after the pitcher nicknamed "Buster" beat Brooklyn with a four-hitter.
Looking at Minarcin's letter, I think he may have enjoyed it. He wrote:
"The game against Dodgers was the best and happiest day of my life. It was great for me."
Of course, the heroes at http://www.restrosheet.org/ have documented Minarcin's milestone game.
Minarcin has kept smiling, despite his abbreviated career. He explained:
"My life in baseball was very enjoyable. I would play for nothing. That's what I thought about the game of baseball. I got an ACL [injury] and the doctors didn't know how to fix it back then. That's what put me out of baseball. It was a very big disappointment for me."