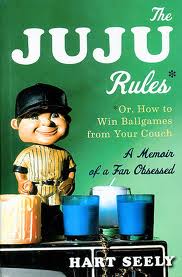 Hart Seely is the type of baseball fan so many of us are — but we are afraid of someone else discovering our secret.
He ranks among league leaders in 2012 with one of the longest titles in ages for a baseball book:

The JUJU Rules*
*Or, How to Win Ballgames From Your Couch: A Memoir of a Fan Obsessed

His book is such fun I've got an alternate title, one of nearly the same length —

I Know You Wanna Say It, Yankee Fans. Let Me Help!

Seely is the real deal, no fan faker. He was co-editor of O Holy Cow! The Selected Verse of Phil Rizzuto, a 2008 book that roasted the free-association on-air ramblings of the long-time Yankee voice. To the untrained ear, "Scooter" babbled about whatever crossed his mind — often miles away from any baseball topic. To Seely, poetic asides punctuated Yankee broadcasts.
In Juju Rules, Seely creates a faux playbook for die-hard fans. He claims to have honed special powers "of influencing the outcome of sporting events through seemingly unrelated acts, in the comfort and privacy of your own home."
While other books will rehash player bios, Seely lets fellow fans star in his instructional equivalent of a Seinfeld monologue. Not until page 141 do readers attend a Yankees game. Then, at the 1987 season opener at Yankee Stadium, Seely provides a tribute to the ballpark, not to any players.
In case readers fear a sentimental high-sugar content in the pages, don't. Seely riffs on an assortment of baseball personality, Yankee-related and otherwise. The author must have cackled every time he referred to the Boston rivals as "Redsock." He pummels Manny Ramirez for a whole gleeful page.
As for Rizzuto? Seely tells of nearly sharing a half-inning in the booth during a Yankees game, then getting a specially-inscribed copy of the poetry book as a consolation prize. The author comes from the same quirky, pinstriped stock as Scooter. Any ribbing is done with love.
Fans of any team would relate to, and giggle through, The Juju Rules. Even former manager Tony LaRussa has penned a glowing endorsement for the book, saying that the story is familiar, entertaining and universal.
Except, a National League manager liked this book, then came out of retirement to thump Yankees and all other American Leaguers in the All-Star Game?
Did LaRussa use Hart Seely's juju against him and the Yankees in Kansas City? Sounds like a sequel!

Coming Friday: Meet Doug Ennis, White Sox autograph collector!