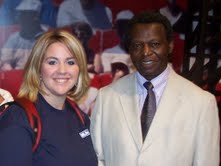 Meeting Lou Brock!

(Photo courtesy Laura Brookman)
If the autograph collecting hobby world chose an all-star team this season, Laura Brookman deserves to be in the starting lineup.

I'm grateful to Laura for an insightful e-interview, helping us remember that this is a hobby for EVERYONE.

Q: How and when did you get started collecting autographs? I deal with baseball in the blog. Were you an athlete in school? Someone inspired you to be a baseball fan, correct?
A: I really only started collecting autographs when I was about 21. It was something always wanted to do when I was a child, but thought it wasn't possible and didn't know where to start. I loved baseball cards when I was young, but was never able to get any autographs.In high school I played a lot of different sports. I was participated in track, basketball, volleyball, baseball, and, the love of my life, cheerleading. Yes, I love sports, I am a female, and I was a cheerleader. I lettered 4 years and was the captain of the squad my senior year. However, baseball has always been a love of mine. I was born and raised in St. Louis, MO, and the Cards have always had my heart! I went to Cardinals games often with my family. The men in my family are serious sports fanatics, so I was always around it and involved with it.

(The first question was for all the guys who've said: I wish my Mom/wife/girlfriend/sister/daughter liked baseball!)

Q: First baseball autograph in person? Who, when and how?
A: That's actually hard for me to remember. When I started getting autographs, I did other sporting events. However, my first baseball autograph was Chipper Jones. He was part of the Braves Caravan, and getting his autograph definitely made my day. I had my "I heart Chipper" hat on and all. Those who know me well know Chipper melts my heart. It was a wonderful experience! It definitely lit my fire for getting more autographs!

Q: When did you first collect TTM? How did you learn?
A: I started TTM's in 2009. I attended the MLB All-Star FanFest in St. Louis that year and fell in LOVE with Topps Allen & Ginter's. When I started collecting A & G's, I started getting them autographed and had a hard time with the ones that weren't baseball. I joined a website to get addresses and started sending them out. I learned pretty much online, from websites and forums I was a part of. Over the years I have gotten help from other autographers I have met around the country.

Q: Have you asked questions in your letters? What's a typical letter like for you?
A: Honestly, other than asking for an autograph, I don't really ask questions. My goal is to keep it short. I try to keep in mind that by responding to my letter and autograph request, I am taking up some of their time. I personally open all of the mail at my work. I cannot tell you how much junk mail I get. I work in Human Resources, so I get a lot of requests for letters typed on letterhead with how much people make and such. I know how frustrating that can be sometimes. Therefore, I do my best to be polite and keep it short. It's just my MO.

I typically use pink paper…I guess just because I'm a female and I like pink. (And no, I don't think it increases my chances of getting it back, just from past experiences.) A typical letter would thank them for taking the time to read my letter, tell them why I'm such a big fan or personal story about them, ask for the autograph and return, and thank again. I'm relatively consistent with that, unless it's just someone I REALLY love!

Q: Best TTM reply ever (or example of something more than just an autograph)?
A: This is actually a hard question for me. I really only send my TTM's for my A & G's. And I just don't get a lot of "extra's" or cool stuff. But the one I personally like the most is my Bryan Berg on my 2009 A & G. He sent his typical business card signed, which I thought was awesome. But he also sent a very short little note with it. In my letter to him, I referenced the fact that he was in a music video for The Bravery. His letter to me apologized for the delay, and talked about the video and the band. The letter was short and didn't have much to it. But, I just liked that he took the time to actually read my letter and send me something personal back.

Q: When did you realize that autographs are a male-dominated hobby? How has it helped, or hindered, your collecting? How did you answer the clueless guy hobbyists who might ask, "You collect? Really?"
A: I think I realized autographs are a male-dominated hobby the minute I started. I would say it has helped, and I would say it has hindered. I mean, guys always say girls get more autographs, which is true; but not always. I am more likely to 2 out of a 1 per guy, but really, not that often. Sometimes, it's definitely a plus being a female in this hobby.

At spring training this year, I managed to bat my eyes and put on a pouty face and got Jayson Werth to come over, when you could see he really didn't want to. But, at the same time, sometimes players assume that since I am a girl, I'm getting the autograph for my boyfriend or someone else. And, some guys just don't care. If I was a 6'0", size 2, blonde hair, blue eyed bombshell, maybe they might pay attention, but really, some guys just look at me as another grapher, and treat me just the same. Which is fine with me.

As far as guys who question my desire to collect, I typically just say yes, I do. And actually, I do get it from guys in the hobby, but a lot of players too. I can't tell you how many times a player has asked me who I was getting the auto for. I'm usually a somewhat polite, but blunt person. So, I say it's for me, and yes, I am a female. I'm kind of used to the skepticism at this point.

Q: Current projects or focus on certain autographs? Future goals for your collection?
My current projects are my 1983 Topps set and pretty much all year's of A & G's, with most of my focus on my 2009 set. The 1983 Topps set is a more recent focus, but have had some help from friends in building it and it seems to be coming along really well!

I'm always working on my A & G's. I tend to organize them to an extreme. I have my sets with cards that are missing in excel and word documents on my work computer, my laptop, and my tablet. It's humorous actually. I'm sure my future goals will be to continue what I'm working on, and the 2012 A & G's release date is right around the corner. So, I'm sure I will be all over that soon!

Q: Advice to females who might want to start collecting autographs?
A: I would say have fun with it! Don't get discouraged or frustrated with it. I consider myself a pretty tough cookie. You have to stand up for yourself. You will get pushed out of the way. Learn to get back to where you want to be. I personally know that some of the males in this hobby will doubt that you are actually enjoying it for yourself, and people on forums will make sure you know they do NOT think you actually exist! But if you really enjoy it, go for it!! The sky's the limit!!
Coming Monday: A letter from pitcher Bobby Shantz!