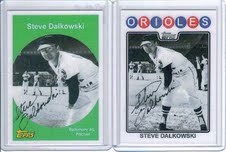 John-William gave Steve the Hollywood treatment
with these custom cards!
Is Steve Dalkowski Hollywood famous? Did he inspire the young pitcher Nuke, portrayed so unforgettably by Tim Robbins, in the movie Bull Durham?
Collector and historian John-William Greenbaum pondered the question, saying:
"It's like a lot of things regarding Steve: it's partially true. The thing is, most of the stories you hear about Steve have some basis in reality, but were either "almost true", like when he clipped the top of a batter's ear in his third professional baseball game (although the real concern was not the batter's ear…he wasn't even moving and Steve thought he killed him for a few minutes…it did end his career and gave him post-concussion syndrome), or "almost false". There's one part where they reference Nuke striking out 262 batters and walking 262 batters…that is something Steve did in 1960 with the Stockton Ports in 170 IP.
But the more Orioles guys I spoke with, since I was under the impression it was all Steve, I found out that Nuke's off-the-field antics seem to be much closer to a pitcher by the name of Greg Arnold, who threw quite hard and had no idea where the ball was going. Think Ryne Duren wild instead of Steve Dalkowski wild, though. Ron Shelton, who wrote Bull Durham, has sometimes said it was Steve Dalkowski, sometimes he's said the character was completely fictional, and other times he's said part Steve Dalkowski, part fiction. Sometimes you get the feeling that he changes his mind. I'm not alone in that sentiment and some ballplayers noted it. Obviously, I can't get into his head and figure out how much is Steve, how much is Greg Arnold, etc., but I corresponded with one of the very few men to have played with Steve, Ron Shelton (himself a former pro ballplayer), and Greg Arnold, and that was the late George Farson, who by the way caught Steve's last game in the Orioles organization.
Mr. Farson was friendly with Mr. Shelton at the very least, and what he did was write me with a bunch of facts about Steve, a bunch of facts about Greg, a bunch of facts about the fictional Nuke LaLoosh, and told me to draw my own conclusion. To anyone who reads that letter, Nuke LaLoosh was Greg Arnold with Steve Dalkowski's arm and wildness. Again, I can't claim to be Ron Shelton–he knows himself better than I do–but I can claim to have a guy's opinion with a unique perspective (only pitcher Rick Delgado, whom I've not been able to locate but I believe lives in Puerto Rico, also was a teammate of Steve's, Mr. Shelton's, and Greg's)."
One thoughtful, sincere letter can open new doors in baseball history. I can't wait for the publication of the Steve Dalkowski book, John-William. Well done!
Coming Friday: Meet Laura Brookman, autograph barrier breaker!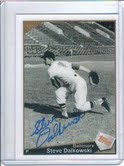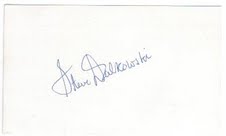 Above is a recent Dalkowski autograph from
John-William's collection.
Of the signed index card, John-William says:
Attached is one of the rarest variations of Steve Dalkowski's signature in existence; his "playing days" signature. They're a bit more common on team-signed balls than index cards and most of the ones I know of were primarily obtained c/o Baltimore Orioles Spring Training in either 1961 or 1963. However, I would hazard a guess that this one's either 1962 Rochester Red Wings ST or 1963 Rochester Red Wings regular season judging by the other signed 3×5's the collector had. The rarest are signatures like this found on single-signed baseballs; of the (very) few I've seen, I believe most to be side-paneled. A signature of this type found on the sweet spot, I believe, would be the rarest Steve Dalkowski single-signed ball.