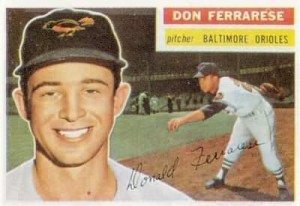 The sloping sig remains the same!
He didn't do it in front of a home crowd. Maybe, it wouldn't have been as much fun.
Don Ferrarese pitched the game of his life May 12, 1956. The Baltimore lefty sparkled in front of a Yankee Stadium crowd, handcuffing the Yanks on two hits.
Imagine hurling a no-hitter for eight innings against the Bronx Bombers. Ferrarese started the ninth by surrendering an infield single to Andy Carey (a college teammate), a sky-high chopper off the plate fielded by the pitcher. A broken-bat single over third base by Hank Bauer followed.
Ferrarese picked up the play-by-play, writing:
"The most intense moment was the ninth inning. After the first hit and the second broken-bat hit, Mickey Mantle came up with two outs. I said, 'Oh, my God.'
He flied out for the final out."
A 1-0 win, his first in the major leagues. Ferrarese was being followed on national TV, as was another nearby hurler. Across town, Carl Erskine was no-hitting the Giants.
(Thanks for the memory, www.retrosheet.org!)