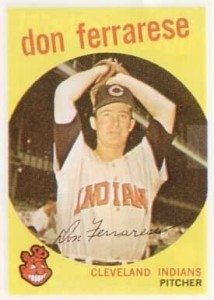 Matching autographs!
Don Ferrarese didn't seem microscopic by 1950s baseball standards. He stood 5-foot-9, weighing 170.
Ferrarese revealed how "Midget" became his short-lived nickname, writing:
"My teammate Woodie Held nicknamed me.


He saw me standing on the mound from the dugout and said that 'Ferrarese looks like a midget out there.' It stuck only for that one year (1959)."
The infielder died in 2009. Held held a unique perspective of his roomie.
Held measured 5-foot-10 and 167 pounds. Maybe, the nickname was issued in self-defense?
Tomorrow: Ferrarese recalls foiling the 1956 Yankees!