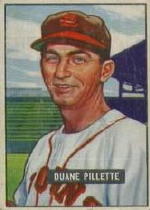 Reason to Smile!
Ask a good question, get a GREAT answer.
Duane Pillette proved that possibility with a jaw-dropping 2010 response.
The fiery pitcher and son of a Major Leaguer (pitcher Herman Pillette) died last week at age 88. Duane signed until then end. One collector posted on http://www.sportscollectors.net/ that he received his autograph after reading the obituary.
I wrote about Pillette twice, first sharing my letter, then showing how he tried to restore a bit of civility to autographing.
The clock is ticking. Write to these witnesses to baseball history. They may want to pass the torch to YOU.