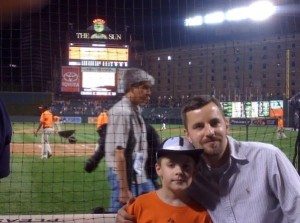 One of my favorite hobby stops is the Autograph Addict.
This site is the collaboration of father-and-son collectors Kyle and Tyler Smego. You might spot them at Camden Yards as many as 30 games a year.
Through the mail, they're collecting memories.
In January, the Smegos posted 40 questionnaire responses, saying they had a couple hundred more. What's the current count?
"I try to get these online as quickly as I receive them, but it's hard to keep up," Kyle said. "I still have, at least, a couple hundred more that are waiting to be posted. It seems like we get around 10-15 back every month though. In the past we have tried to send the same questionnaire out to all the players (Tyler made up the questions. We try to keep it questions that the players can quickly jot down an answer."
These "autograph addicts" are gleaning great insights from baseball history makers. Pitching coach Ray Rippelmeyer talked about teaching Steve Carlton the slider. We all know how that experiment turned out.
"Ray was one of the longest letters we have received, but not the longest," Kyle said. "We have received many responses where the player filled out our questionnaire and wrote a letter. Some of the longer responses include: Rippelmeyer, Duane Pillette, Bobby Shantz, Jake Gibbs, Ernie Broglio, Don Ferrarese, etc….even Phil Niekro and Tony Kubek. All of those guys wrote a page or two or three."
The Smegos' best-ever response?
"Our longest correspondence however has been with Ken Retzer," Kyle said. "I saw that you blogged about him this week. He really is a great guy. He likes to tell stories about his playing days with the Senators, catching JFK, his family, and his business ventures. Over the past year he has sent several letters and included some neat items each time. One time he sent a copy of an old menu from his diner that he used to own (Home Plate), a couple of pictures of his family, some additional pictures of him with JFK, copies of all his baseball cards, etc. He plans on coming out to the DC area sometime soon and I look forward to taking him out to dinner."
Kyle and Tyler are making the hobby their own. They've asked for suggestions for other fun questions they can be asking. Ask someone about what they think of when they see the photo on a certain baseball card.
More than 30 years ago, Twins infielder rolled his eyes and grinned while signing his SSPC "Pure" card. I asked him if he liked that card.
"I think they took photos on the hottest day of spring training right after wind sprints," I seem to remember Terrell saying. "Look at how sweaty we look. Look at the other Twins cards, and you'll see what I mean."
What fun questions do you ask when you write a former player?