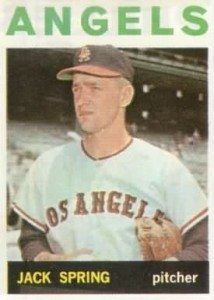 Jack Spring is still in the game.
Thanks to collector Steve Smith of Fall River, Nova Scotia. He posted on the ever-handy www.sportscollectors.net that he had received two autographed cards from Jack Spring. Additionally, Mr. Spring provided a note saying why he couldn't answer questions by mail.
It's hard not to be a cynical collector these days. Upon seeing the posting by Steve, I thought of many reasons why Jack Spring was impatient with collectors.
Through sportscollectors.net, subscribers can send personal messages to collectors who've posted a success or failure. That meant I could find out the truth.
Steve forwarded the explanation that Mr. Spring is coping with Parkinson's Disease, making writing answers difficult.
Nevertheless, the former pitcher isn't letting autograph requests go unanswered completely. Even a signature may be getting difficult. That's not stopping the stopper.
(One of Spring's untold stories must surround June, 1964. Today's sportswriters goof in claiming that the Cubs and Cardinals staged the swap of pitcher Ernie Broglio for Lou Brock. In a 6-player deal, the Cubs sent Spring and fellow moundsman Paul Toth to round out the deal.)
The moral? Appreciate every autograph. Treasure every extra. Some signers are taking extra efforts to give back to the game and its fans.