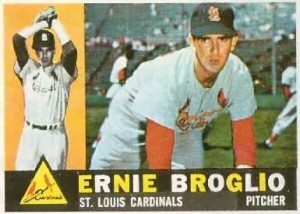 Ernie Broglio is more than just a trivia question. Today's fans often hear, "Who did the Cubs get in return for future Hall of Famer Lou Brock?"
Finger-pointers seek scapegoats. The teams staged a three-for-three swap. Bobby Shantz and Doug Clemens accompanied Broglio to Wrigley Field on June 15, 1964.
Broglio had been traded before. He was part of a five-player deal in October, 1958. He wrote:
"The Giants traded me to St. Louis. I was really surprised because I had two really good years in the Giants minor leagues."
Broglio notched consecutive 17-win seasons in 1957-58, first in Double-A then graduating to AAA the next year. He unveiled his full potential in Class C ball in 1955, winning 20 games.
As a Cardinal, Broglio enjoyed two years of glory. His 21 wins led the National League in 1960. The righty followed that with 18 victories in 1963. Surprisingly, the triumphs offset a career-worst 13 wild pitches. Broglio noted:
"I don't believe there was that much difference between the two years, except in 1960, I either won 7 or 9 games in relief. The wild pitches were caused from a shoulder problem. I eventually took 16 or 18 (cortisone) shots in the shoulder."
Before he left St. Louis, Broglio enjoyed a ringside seat for the evolution of Cardinals hurler Bob Gibson. When did Broglio know Gibby might be Cooperstown bound?
"There was never a doubt about him getting to the Hall of Fame. He had the instinct of getting you out from the time he started pitching."
Broglio earned the attention of Sports Illustrated twice, first with a 1961 cover and later with this bittersweet 2000 article in which he reveals the inscription of his autographed photo from Lou Brock.