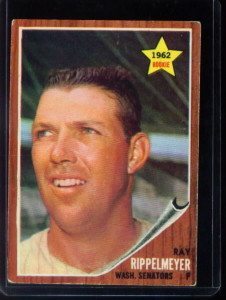 Nearly 50 years later, what would you remember most: the great day at the lake, or "the one that got away"?
Pitcher Ray Rippelmeyer debuted April 14, 1962. His visiting Senators faced disaster. The Indians teed off on starter Claude Osteen. While toiling for just one out, Osteen surrendered five hits, a walk and six earned runs.
Newcomer Rippelmeyer responded with 5.2 innings of scoreless relief. Washington's rally wasn't enough, resulting in a 6-4 outcome.
Yes, first-ever games can yield fun memories. I pored over box scores and found a more intriguing game to investigate: May 3, 1962, at D.C. Stadium versus the Boston Red Sox. Here's Rippelmeyer's recap:
"That day in early May was one I'll never forget. It was an afternoon game and I didn't even think I would pitch as I had warmed up seven times the night before and never got in the game. My arm was weary. In the second inning, Claude Osteen got into trouble and I was called in the game with the bases loaded and two outs to face the "Yaz." I got him on a ground ball to short to keep the score at 3-0 Boston.

I hit my home run my first at bat and then held them scoreless until I batted again and hit a line drive to left field off of Mombo's (Bill Monbouquette)curveball.

I couldn't believe George Case gave me the steal sign. I took off and Jim King hit a line drive over my head into right center and I went to third and Case is waving me home. I ended up scoring on a IBH to right with a big slide at the plate.

I shouldn't have even been hitting as I was dead tired and I got in trouble the next inning. With two outs and the bases loaded, Eddie Bressoud, shortstop, hit a ball off the end of the bat between first and second that hardly made the outfield grass. Two runs scored and I was so angry I overthrew the next couple pitches to get Pete Runnels out, but had hurt my arm and I wasn't the same the rest of the year.

I feel very fortunate to have had the chance to play in the major league. Even if it was only a short time. I had a good playing career and won over 100 games in AA and AAA ball in a period of 10 years. I stayed in the game and coached for a long time. I just finally retired after the 2007 season for good. I spent the last 14 years with the Mets.

For a farm boy that went to a small high school of 125 in Valmeyer, Illinois and never played in any organized games until I got into high school, I got farther than I even had hoped. I'm 77 now and I still relive my games in the majors and many big day I had in the minors."
Thanks to SportsCardDatabase for the card image. Every collector should know about this invaluable resource.