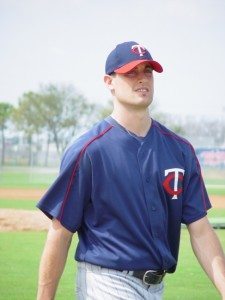 "On the Road With Pat Neshek" is an autograph collector's dream come true.
This NESHEK NATION blog is like getting a letter from a player every day.
This isn't just golly-gee tales of being a major leaguer. Sure, he serves
up tidbits any Minnesota Twins fan would savor. But this isn't common fan fare.
Neshek is pitching for us. For the hobby!
He's asking the hard questions of his teammates. Would they sell their
own autographs on ebay if the sigs were going for $50? What would they
do with a letter that had 20 cards in it to be signed?
I see Neshek as a great autograph ambassador. On his homepage, he
offers to sign for anyone who encloses a SASE. No limits. Then, he reviews new card sets. He talks about busting packs. He is a fellow collector who celebrates the hobby wins of others. His spirit has to catch on with other players.
Don't miss this blog. Better yet, send him a note of thanks. Too many collectors complain about the scribblers, the greedy and the non-signers. Take a break and encourage one of baseball's best hobby role models.