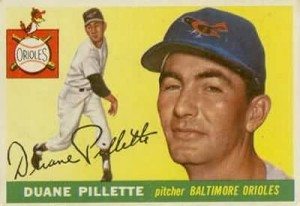 Luckily, Mr. Pillette keeps smiling and signing.
"Hey ____________,
Enclosed is a card and index card, pick up a sharpie and sign them"
Would anyone really send a note like that to a former player? Pitcher Duane Pillette, first profiled on the blog back April 15 and April 16, shared this with a collector.
The hobbyist posted his stunning exchange with Pillette on the ever-amazing http://www.sportscollectors.net/ forum.
Pillette returned the collector's 1952 Topps card signed. However, unsure whether the hand-written demand came from the real collector and SCN subscriber, Pillette added:
" I'm not really sure who sent me this card. I'm a little surprised that in high school you couldn't find a better piece of paper and maybe next time you send a card to anyone make it sound like a pleasure and not like a job!"
In the past week, SCN subscribers have been rallying to send apology letters to Pillette, who has 142 recorded TTM responses on the website.
The hobby needs our help. The quality of letters you send matter. A thank-you note could convince a willing signer not to stop answering fan mail. Other retirees may start charging, not out of financial need, but from the urge to deter requests by way of a cash penalty. If the ex-player believes that letter writers aren't sincere, why not scare them away with a fee?
A standing ovation goes to collector Richard Jones. After sharing the letter, he wrote me:
"I was just so upset about this incident. I love collecting autographs. Its a great and fun hobby but people like the author of that horrible letter is what is causing "our" hobby to be more challenging."
I see a couple of messages in this shocking episode. First, don't just say "too bad," shrug and go on collecting. Speak up. Silence and inaction only make a problem grow.
Most of all, Duane Pillette's challenge tells us to make every letter count. It's not just for yourself, but for tomorrow's collectors, too.