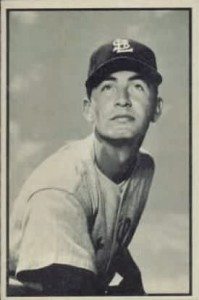 Duane Pillette is an eternal all-star. Forget the statistics. I'm talking about a baseball evangelist, someone unmatched at spreading love for the game.
Pillette responded with a 2-1/2 page response to questions about his career.
His insightful, inspirational letter is worthy of Hall of Fame enshrinement.
First of all, Pillette offered a perspective of his time with the St. Louis
Browns not heard from many Brownies. How did it feel to go from 1953 Brown
to a charter member of the Baltimore Orioles?
"Tom: The St. Louis Browns became the Baltimore Orioles. They were really the same team. But St. Louis' park was used by the Cardinals, also, and the infield was dirt, not grass.

Baltimore had grass, and I was a ground-ball pitcher. So in 1954, my only year with them, I made the All-Star team."
For fans, Baltimore was Memorial Stadium.
For Pillette, Memorable Stadium!
Tomorrow, discover Pillete's inspiring story of his major league father.