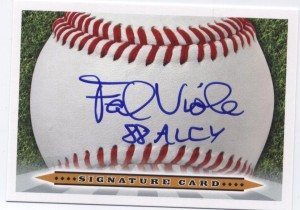 Frank Viola!
One of the superb examples pictured
on The Autograph Card Facebook site.

You've gotta love an answer like that.
I checked in with some of my favorite guys in the hobby at The Autograph Card.
Co-creator Brian Flam, fresh off an appearance at the National Sports Collectors Convention (offering a show-only card set!) said he was busy when I checked in for an update on some of the great hobby products he's offering. Check back in October.
Too busy counting his huge profits?
Nope. He's using what he makes.
Brian was getting ready for a trip to 'graph the Arizona Fall League. Smart move, getting tomorrow's stars today. You know what he'll be getting autographed when he's there.
Brian and partner Russell Miles believe in what they make. They're still collectors.
Check out their Facebook page or website. There's no reason to struggle with blank index cards when you have artful alternatives like The Autograph Card.