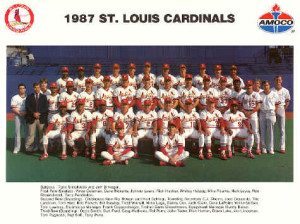 How many in this group still answer fan mail? I'll find out!
My mailbox is on a diet. Instead of losing weight, the baseball responses are shrinking.
Quite likely, everyone is outside more. Baseball season is in full swing. More choices. Slower responses.
Instead of fretting over envelopes not yet returned, I've stayed in action. I chose a bunch I cheered for in the 1980s: Whitey's boys.
Any team needs a stating nine to break a slump. Here's mine:
Glenn Brummer
Tom Brunansky
John Costello
Ricky Horton
Kurt Kepshire
John Mabry
Mike Ramsey
Lonnie Smith
Scott Terry
Who might be the trickiest in the group? I vote for broadcaster Horton. I checked http://www.sportscollectors.net/. The last reported by-mail response from the lefty was Jan. 5, 2010. The letters are out. The fingers are crossed.
Stay tuned…
Coming Tuesday: An inspiring note from catcher Chris Bando