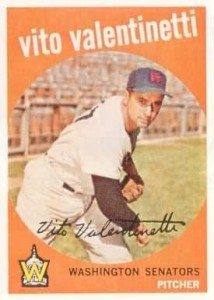 Valentinetti has kept the
same autograph for a half-century.
He'll sign VERTICALLY
to squeeze in every letter!
I never got any questions answered from pitcher Vito Valentinetti. However, I got a huge clue that I'm on the right track when writing to retired players.
He did autograph my letter. To his credit, even being in his 80s, he doesn't miss a letter in his 17-letter name. Legible and complete!
I asked about his 1957 5-hit win against the Athletics. Instead of writing about the day, he sent me the box score from http://www.retrosheet.org/.
I had asked Valentinetti about his career-high seven strikeouts against the Yankees in 1958. Perhaps, the only reason he doesn't brag about this win is because he didn't go a full nine innings.
The lesson from the 1950s hurler is clear: specifics matter. ask about a season, a team, one player. The more specific your question, the better the possible answer.
Tomorrow: The legend of "Stu-Man," veteran autograph collector.