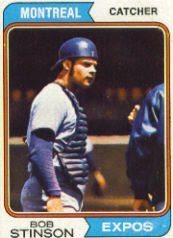 I like Keith Olbermann.
No, this isn't about politics. I like the idea of a college student
saying "Oh, yeah!" when asked if he'd like to write the backs for a 630-card
set. Each back of the SSPC set came from Mister KO, long before his fame at ESPN
or MSNBC. These weren't 1953 Bowmans, but they may be the closest "Pure
Card" I will ever see again in my hobby lifetime.
I wrote Olbermann back in 2001 about his achievement.
Back then, he wrote that he had every card in the set autographed, excluding
Bob Stinson.
Long before Olbermann's politics were known, Stinson still shunned Keith's requests. For years, Stinson was the first to protest being pictured on an unlicensed set. In other words, he wouldn't endorse via an autograph any product that didn't pay him.
If Olbermann could open a pack of 1967 Topps on his TV show, it seems
logical that "Scrap Iron" could come on and autograph his card. Collectors
report that the former catcher has charged $5 per sig. Originally, he said
the money went to the softball team he coached.
I wonder how much Olbermann would have paid for his card to be signed?