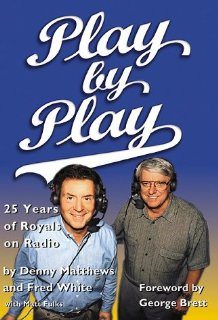 Long out of print, the
1999 book was free of scandal.
Where did the pair
like to eat on the road?
Hey, it was the real Fred!
The Kansas City Royals lost an unsung hero this week.
Fred White passed away from cancer at age 76, less than two days after announcing his retirement.
White's full-time gig as the broadcast partner of Denny Matthews marked the first 25 years of the K.C. franchise.
He was solid, consistent. Forget the bluster and glitz. This was a Midwesterner for a Midwest club. White never dissed the Royals when he was replaced with a younger voice, publicly (even on the air) sticking up for "new guy" Ryan Lefebvre.
White was there for so much Royals history. Sadly, because he wasn't a fixture in card sets, autograph collectors missed out. I could find only two recorded fan letters on www.sportscollectors.net. Of course, steady Freddy signed both times.
Don't miss out getting autographs from baseball's storytellers. Print out a photo. Find a collector online making custom cards. See if you can swap for an extra.
You may wind up with a team-issued card or other bonus for your efforts.
Just don't wait too long.
Meanwhile, enjoy this heart-felt tribute from Craig Brown at Royals Review.