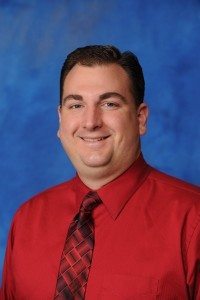 Iowa Cubs broadcaster Randy Wehofer found life announcing for a Royals affiliate had one major perk:
Guest shots in the Kansas City broadcast booth!
More than once, Wehofer shared airtime with the Royals broadcast team. He wrote to share his experiences broadcasting from major league venues:
"Denny Matthews, and everyone with the Kansas City Royals, was extremely nice to me. Denny offered me some nice compliments both on and off the air. But for being in broadcasting, he is a man of few words off the air. He was gracious and welcoming and that's all I could have hoped for. Ryan Lefebvre and Fred White have served more in a mentoring role for me over the years and I appreciate their help. Most of all, I have a lot of confidence knowing I've sat in the booth for a real major league game next to a Hall of Fame broadcaster and he told me that I did a good job."
Wehofer broadcast from Wrigley Field in 2009, when his I-Cubs played a PCL game there.
"The trip to Wrigley was a great experience, especially for a guy who grew up in Chicago going to games there as a kid. I always thought Wrigley Field was the biggest place in the world growing up. But going back after all these years and visiting so many other parks, my biggest impression was to realize how "small" and quaint Wrigley is and why it earns the nickname "The Friendly Confines."
Lastly, I wanted to ask a radio broadcaster: do you get tired of being a voice without a face? Don't you want your own baseball card?
"I was part of a staff group picture that was on a card in our team set my first year in 1999 in Burlington. It's fairly obscure. The most recognition I've received comes from being invited to be the emcee for the annual awards banquet at the winter meeting twice in the last four years. Over 2,000 people from both major and minor league baseball and national media members attend that event. I've also made a few presentations at the minor league baseball promotional seminar. Those events have given me the chance to meet a lot of people and let many in this business get to know me. I've really enjoyed those opportunities."
I wish Randy Wehofer many more seasons of opportunities. He enjoys them all.