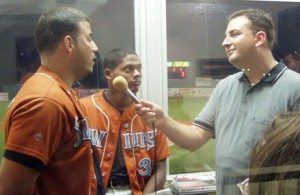 I may have found the "Crash Davis" of baseball broadcasters in Iowa Cub voice Randy Wehofer.
Tune him in on Praise 940 AM, KPSZ, and you'll see what I mean. Even after nine seasons calling class A Burlington Bees games, Wehofer still fills each broadcast with the fun insights of a real fan. Who couldn't love his signature "Get Outta My Yard" home run call?
Wehofer plays the team broadcaster in the movie "Sugar." On the radio or on the screen, Wehofer doesn't disappoint.
Totally unexpected, totally enjoyable, Sugar

is my kind of baseball movie. I wanted to thank Wehofer for his broadcasts and his portrayal.
He sent an all-star response, writing:
"The movie was a great experience, but I've not heard about from many who didn't already know me before the movie.

"'Sugar,' to me, was mostly a coming-of-age/immigrant story told against a baseball backdrop. I thought they did a good job depicting the challenges of young men – many without a lot of formal education – coming to a foreign land to play baseball and how much pressure they feel to make money to try to rescue their families from poverty. what he learned, that many don't, is that baseball is a part of him, but it doesn't define him.

Through woodworking, he could also make a life for himself and his family, like the business owner he met in New York. Too many young people, Dominican or American, think if they fail at sports, they have failed at life. In the end, Sugar realized he could succeed without baseball and the game became fun again for him."
Wehofer is succeeding at sports, while keeping the fun. I hope a major league promotion isn't far. I'd hate to hear him out of Iowa's "yard," but I know he's earned his shot at the bigs.