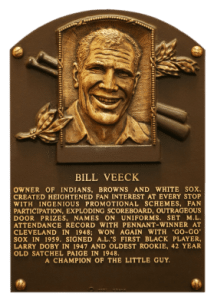 Yes, it's tempting. But it's been done.
Who doesn't want to ask one MORE "Shot Heard Round The World" question of Bobby Thomson? The same holds true for Mike Veeck and Disco Demolition.
Mike has discussed his day of infamy from July, 1979. He's a good sport who relives the promotion in countless interviews. One enterprising collector even hit the TTM jackpot, getting Veeck to autograph a baseball in which he recounted the highlights and lowlights of the idea gone haywire.
But Veeck worked as director of marketing for the team and his Hall of Fame father Bill Veeck for more than one game. Read Veeck–As In Wreck: The Autobiography of Bill Veeck
or The Hustler's Handbook
to fully appreciate the passionate creativity of this baseball-loving maverick.
What else does Mike remember about the "Veeck and Veeck" days of the 1970s White Sox?
Mike Veeck replied:
"We invented suites on the South Side. Harry (Caray) started singing 'Take Me Out to the Ballgame.'

"Both have their pluses and minuses.

Thanks for making me think.

See you in the bleachers.

Mike Veeck"