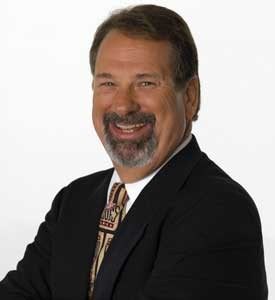 Whenever I get a letter from a former Browns, Indians or White Sox player, they mention two Veecks: team owner Bill and his wife Mary Frances. Appreciating players and fans became a Veeck family affair.
I wrote to Mike Veeck, sharing this insight. I feel that the plaque in the Hall of Fame was earned by two people, not one. Did he find the same sources of inspiration in his leadership of the St. Paul Saints and three other minor league teams? Does his wife Libby offer the same support? Could you find Mike in the stands, just like his father?
Mike Veeck wrote:
Thank you for the kind note and the opportunity to talk about my favorite person…Libby. She collects art, and as a result, all of the decorations at Midway (and the other parks) have been influenced by her love of the visual. I even write commercials that are visibly different from my "pre-Lib" days. If she doesn't laugh, we don't use it.

I spend a lot of time in the stands and at the gate. If you make EVERY decision with the people who come to your parks' best interest, you can't go wrong. Fans know much more about your product than you do — or in this case, than I do."
I believe in Mike Veeck. I think his upbeat philosophy, captured in the delightful book Fun is Good, could transform Major League Baseball and other stodgy, sluggish sectors of society.
Tomorrow: go beyond Disco Demolition, and find out any other White Sox highlights Veeck savors from working for his Dad.