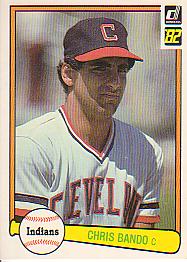 Donruss featured both
Bandos in the 1982 set.
Why not a card of
the brothers together?
Faith and humility. They served catcher Chris Bando through the 1980s as a major leaguer.
Today, the devout believer embraces the same values as head coach of the San Diego Christian College Hawks.
I asked for memories of his older brother Sal Bando. Chris Bando replied:
"I was never 1/2 the player my brother was. I only had vision in one eye which paralyzed me at times, but no one knew this."
Bando blossomed in 1984, posting career highs for the Indians. How?
"Tom, I received a chance to play every day, which allowed me to not worry, knowing I'd be in there the next game if I didn't hit."
Future Hall of Famer Tom Seaver became a meal ticket for Bando. The catcher batted .714 off "Tom Terrific." Admirably, Bando downplayed his mastery of the veteran, explaining:
"Tom Seaver was on his way out and he threw high '80s and FB was straight. He threw a lot of FB and I was a FB hitter."
The San Diego Christian College website offers a detailed biography of Chris Bando and a look at the coach today.

Coming Wednesday: Witnessing Casey Blake's big heart.