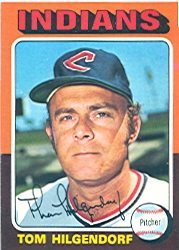 Note the "h" in
the signature,
obviously from his
Topps contract!
Was beating the Milwaukee Brewers a religious experience for pitcher Tom Hilgendorf?
Hilgendorf spun a six-hit win (with a career-high seven strikeouts) against Milwaukee July 30, 1972. The victory left him with a new insight:
"The Brewer Game, I was asked to start that game 'cause our staff was tired. I only threw the forkball about 6-7 times during the game. After that, I threw it 70 percent in games.

All my pitches were working and I was having fun. As the game went on, I got stronger. Not bad. First start, go nine innings and win."
Hilgendorf's career concluded on a high note with the 1975 Phillies.
"The Phillies: They traded for me when Tug McGraw had back surgery. They were after me for years, but Cleveland wouldn't trade me. In Frisco, 1975 — Twitch (Wayne Twitchell) was pitching. Got only one out. I came in and pitched 2/3-1-1-1-1-1-1-1 and Tug pitched the ninth. We won.

(Manager Danny) Ozark said to me, 'You are off for 2 days.' But I pitched 2 innings the next day. Playing for the Phillies was the best time of my career."
If 1975 was the best time, only one season prior must have been the other extreme. The Indians held "10 Cent Beer Night," creating an on-field riot. I asked Cleveland manager Ken Aspromonte for his thoughts, which were shared in an earlier post. Sure enough, Hilgendorf (pictured in the ESPN linked article), had the same bad aftertaste from 10-cent beers.
"Beer Night: I was hit in the head by a flying fold-up chair. Steel. Hard word. Very stupid promotion.

It's a bad dream. As if it happened yesterday.

Thanks, Tom.

Best wishes,
Tom Hilgendorf"
Thanks to the retired Iowan, for sharing ALL his baseball memories — even the most bruising. Thanks, too, to http://www.retrosheet.org/ for the play-by-play.
Tomorrow: A few words from Jim Woods, the Cub before Ron Santo.