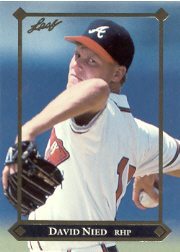 Fast reply,
no details…
In today's mail, I found a partial reply from David Nied.
Yes, the first pick of Colorado's expansion draft. While he added his #17 to his signature (on my letter) in this one-week turnaround, I did not get any questions answered.
That's when I keep mulling over the eternal hobby question: typed or hand-written letters?
In my January post quoting hobby buddy Rich Hanson and his "thanks for making the effort to write me by hand" reply from 1960s pitcher Larry Miller, I've kept this choice fresh in my head.
Here's one possibility: even though you can't throw a 100 m.p.h. fastball or hit a 500-foot homer, you still might scare retired players with your power.
Your computer power!
Someone in their 70s might believe that you're churning out hundreds of autograph request letters nightly. You've programmed your computer to act in evil-robot fashion and fool the recipient into thinking this is personal correspondence.
I had a pompous high school college prep English teacher. He warned, "A whiff of the Cliff and you're dead!" Meaning: if he had any inkling that a student used the Cliff Notes synopsis to save time on a report, he'd issue an F.
I think a few retired players resemble my teacher. They're seeking a reason NOT to reply. Other times, a spouse or family member might help sort the mail.
Is your letter different than all the others? I say, if it's legible and personal, someone will want to read it — no matter what the format is. If you want to receive, first GIVE. If you have even one personal sentence about yourself and one more about that player or retiree, that may be the competitive difference you need.That's why I haven't abandoned typing.
I'm averaging only a letter of day mailed. I don't want to do more. I'd rather spend the time researching each individual and writing the best, most personal letter possible.