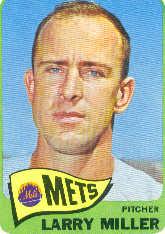 Typed Letters Don't
Make Him Smile!
Collectors know that "tastes great" or "less filling" isn't the only debate these days.
After the Sunday post, I fielded a reader question:
Do you write or type your letters?
This is an on-going discussion on the http://www.sportscollectors.net/ forum. Speed for typing.
Sincerity for hand-written.
I've chosen typed for another reason. Legibility.
I'm asking specific questions. If a retiree can't read my handwriting, then I'm doomed.
Only once did I alter my game plan. That's when I contacted former Mets pitcher Larry Miller. Thanks to collector pal Rich Hanson, he tipped me off that Miller had replied how he appreciated a collector who took the time to write by hand.
I think some collectors worry that a player might suspect a form letter if its printed from a computer. I differ on that concern. I do address envelopes by hand. (Businesses TYPE envelopes. Bills or junk-mail solicitations come in typed envelopes.) Once I've convinced someone to open my letter, that's a major victory. Then, I hope my personal appeal makes my case, even without my iffy penmanship.
I believe that content matters most. If you've researched someone's career (or can tell about seeing him in a specific game) you'll make your point. You're being personal and easy on the eyes.
What do you say, readers? Do hand-written or typed letters work best for you? Ever field complaints from signers?
Tomorrow: a 1940s Brooklyn Dodger shares the nickname Leo Durocher gave him.