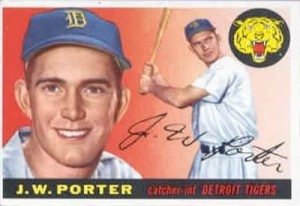 Porter's continued signing by mail makes me smile.
He values legibility, too!
Bobby Hoeft could have managed in the majors.
I've written about this Detroit Tigers super-fan before. His newsletter, When Baseball Was Fun, is a quarterly delight.
Part of the joy in each issue is that he coaxes classic insights out of names that autograph collectors adore:
Virgil Trucks
J.W. Porter
Both men are autographing dynamos. Each TTM reply seems more like a lottery jackpot than a mere signature. They go above and beyond in pleasing collectors. For Bobby, they write columns!
In the latest issue, Porter writes about memories of his 1955 rookie season with Detroit, contrasted by today's minimum salary for major leaguers being increased to $475,000. He concludes:
"For $475,0000 a year, I would warm up pitchers until my hands beld and sign autographs until the cows came home.
I would even learn to write my name so it could be read clearly."
Just a joke, folks. Try Porter by mail. His pristine penmanship would make him a role model for any current player.
Try the WBWF newsletter. Bobby makes baseball, and reading, fun!
Coming Wednesday: Want to know the "Thrill" in Will Clark? Ask Roger "Super RC" Chen!