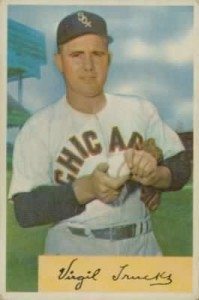 Let's surprise 'Fire' on April 26
with OUR autographs!
Thanks to friend Kohei Nirengi, who shared this e-mail alert.
ON APRIL 26 VIRGIL TRUCKS, THE TIGERS OLDEST FORMER PLAYER WILL CELEBRATE HIS 95TH BIRTHDAY !!!
*************
A BIRTHDAY PARTY WILL TAKE PLACE AT THE HOME OF HIS DAUGHTER.
SHE HAS REQUESTED THAT THOSE WHO WANT TO SEND VIRGIL A BIRTHDAY CARD PLEASE SEND IT TO HER HOME AND NOT TO VIRGIL'S ADDRESS. SHE IS PLANNING HIS BIRTHDAY AS A SURPRISE AND WILL ARRANGE ALL CARDS IN A SPECIAL HONOR TO HIM.
HER ADDRESS IS:
MS. CAROLYN TRUCKS BECKWITH,
55 SALSER LANE
COLUMBIANA, ALABAMA 35051
GO TIGERS, bobby hoeft, founder & publisher of WBWF
Past blog posts have saluted Bobby and his one-of-a-kind newsletter, When Baseball Was Fun. Bobby has an all-star plan here.
Please, do NOT send to Virgil at HIS address. Help his daughter stage a special SURPRISE tribute to this super-signer and best friend to the hobby.
Coming Wednesday: Yogi Berra and Ron Guidry autographing details!