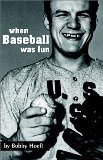 Bobby's newsletter
AND
book are worthwhile!
I just got the spring issue of the newsletter When Baseball Was Fun in the U.S. Mail today.
First-person stories by J.W. Porter and Virgil Trucks, regular contributors, highlight this fun issue. Trucks tells of being interviewed by two FBI agents. You won't find these gems anywhere else.
I wrote about newsletter founder/editor/publisher Bobby Hoeft last fall.
If you didn't believe me then, get Bobby's latest issue as proof. I've yet to meet somebody who loves the Tigers more.
In fact, you'd faint to get the published list of former Tigers who are lifetime subscribers. I think all ex-Tigers know of this publication! Bobby's offering the same deal to us mortal fans. A LIFETIME subscription (4 issues yearly) for $20.
This subscription is a badge of honor. When you'd write to someone like Porter and Trucks, telling them you subscribe, they'd know you speak their language. You speak Tiger.
To subscribe or get more information, write Bobby at wbwf@sbcglobal.net.
Coming Wednesday: The shady alternative to collecting…kids, don't try this at home!