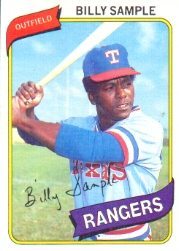 As the card photo suggests,
Billy has a good eye
(for sincerity)
Fans cheer for players, right?
What if the roles were reversed? What if the player offered a standing ovation for YOU?
I'm grateful to share this fascinating note from Gregg Kersey. I first wrote about Gregg and his Phillies collection back in October.
Gregg, the first to share the story about former player Billy Sample writing, producing and directing a baseball movie entitled Reunion 108, included this update:
"The reason I was writing to you was that as I have been talking to Billy over the pasts few weeks, something ironic occured and I think somehow you need to pass the message on to all your TTM readers.
Billy said he has kept letters from fans in a box that he found were nice sincere letters from fans. Long story short: in this box was a handful of letters was one I had written him in 1998.
So everyone in this hobby should remember you never know where your hobby is taking
you so be sure you are honest and sincere with the players because, according to Billy, they can smell the fake BS letters. In the end, if not sincere, it may bite you in the ass.
Thanks.
Take Care,
Gregg"
Thank you, Gregg.
Coming Tuesday: Can you prove you're a REAL fan in your letters?